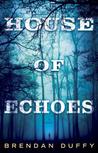 House of Echoes
by Brendan Duffy
My rating: 4 of 5 stars
Oh how I wish the creep factor was higher! This falls a little short of the
Harvest Home
level, but it felt like the author was trying for that. I'm a huge fan of the modern town/village with age-old secrets genre, and
House of Echoes
fits right in. The town's history of disaster and recovery, how the Winter Families have taken such an interest in what's going on, and the remoteness of the Drop from the rest of the town really work. Couple that with the sense that something is seriously wrong with both Charlie and Caroline and learn that is really, in some ways, a misdirection and you've got a great "don't read this at night" book.
So, why only four stars? The ending was a little muddied. I'm not saying that it needed to be more specific, but more like... perhaps there was some editing done here that changed the pace and tone of the book? There was a slow, deliberate pacing to the previous chapters and then WHAM! ending.
ARC provided by publisher.