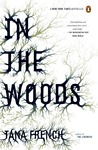 In the Woods
by Tana French
My rating: 4 of 5 stars
At times while reading this I wondered whether the author had read (or seen)
Picnic at Hanging Rock
because there are moments that clearly harken back to that work: children missing and one who is found, bloody, as well as the atmosphere in the woods themselves that seems to be somewhat... off. It's clear, too, that some of Rob's memory of that time and his current experience in the woods are merging and his lack of sleep and proper food all contribute to the surreal atmosphere. It was interesting that we never get any resolution on that mystery, and I applaud Ms. French for not trying to tie the two together.
As for the current mystery, the ending was a little less satisfying. While it was obvious that Rosalind was the mastermind, that no one checked her age (they did get her medical records - surely her date of birth was on them?) seemed to be an easy way to get her confession tossed. And that Jessica's health was never explored in light of all this is another slight let down.
By the end, more than just Rob's life is turned upside down. Few authors "go there" with their detectives, leaving the upheaval and destruction to the lives of the murderers, victims and their families/friends. I liked that choice here.